Call our Phone #978-469-0911. Leave a message/ or live service will be waiting.

Our Pleasurable staff will be happy to assist you in your decision to become

THAT GIRL WITH THE BLING BLING!!!!!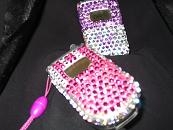 Crystals applied to your Beloved Flip Phones Front with a little here and there. Starting at only $100.00 **
| | |
| --- | --- |
| "BLING STYLE" #1 "Cover Me" Flip Phone cover with 2 colors of crystals, one Intial, & some for the antenna. | |
| "BLING STYLE"#2 "Covered Up" Flip Phone Cover Covered Up, Sides, & Antenna using three colors, plus pick a simple design. | Cost is only a mere $120.00.** |
| "BLING STYLE" #3 "Your WILD" Flip Phone covered up in your wild design using up to 4 colors, including antenna. | |
| | |
| | |
| | |
| | |
** Some additional fees may apply for diffrent sized phones. Please call to find out the correct amount for your phone.
Which Accessorie Do I Want Done Now! Cause When I pull Out My Phone Boy Do I Get Noticed!!

Accessories Pricing:
For accessorie prices will vary. Normally beginning in the range of $80.00

All accessories under 2 inches in space will begin at $50.00

Always remember girls the more crystals the higher the price.

All affordable for you to have your phone & accessories adorned in Genuine Austrian Crystals For the Beautiful Shine!
Or you can reach us:

Bling Bling YOur Phone BABY
& Accessories
Haverhill, MA 01832

Phone: (978) 469-0911